← CURRENTLY LOCKED OUT OF MY OG TWITTER
HI I'M "SAUCE" and this is the "SELF INDULGENT" page of my "WEBSITE".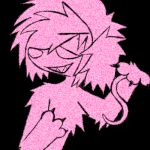 I am quite literally an evil dog. I am a SADIST. I have a keen interest in the things that make people HORRIFIED and UNCOMFORTABLE.
I notably, perhaps nichely or notoriously, have an interest in different kinds of worms and larva, and forcing others to eat them for twisted gratification!
. . .



<- The Real-time GCP Dot